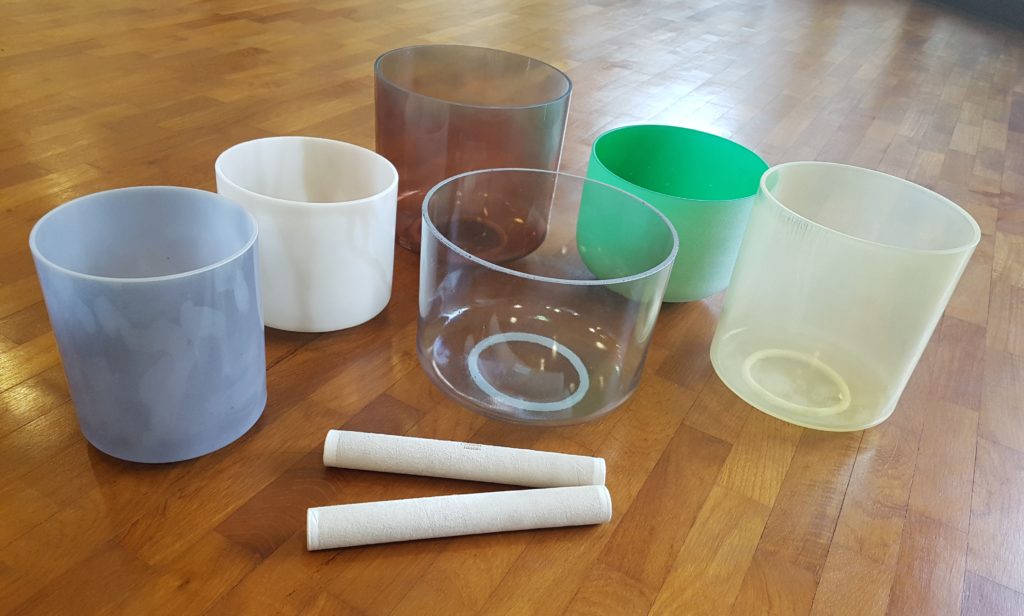 Sound creates a space with a frequency and vibration that is conducive for healing, and has been used as a healing tool in various cultures for thousands of years.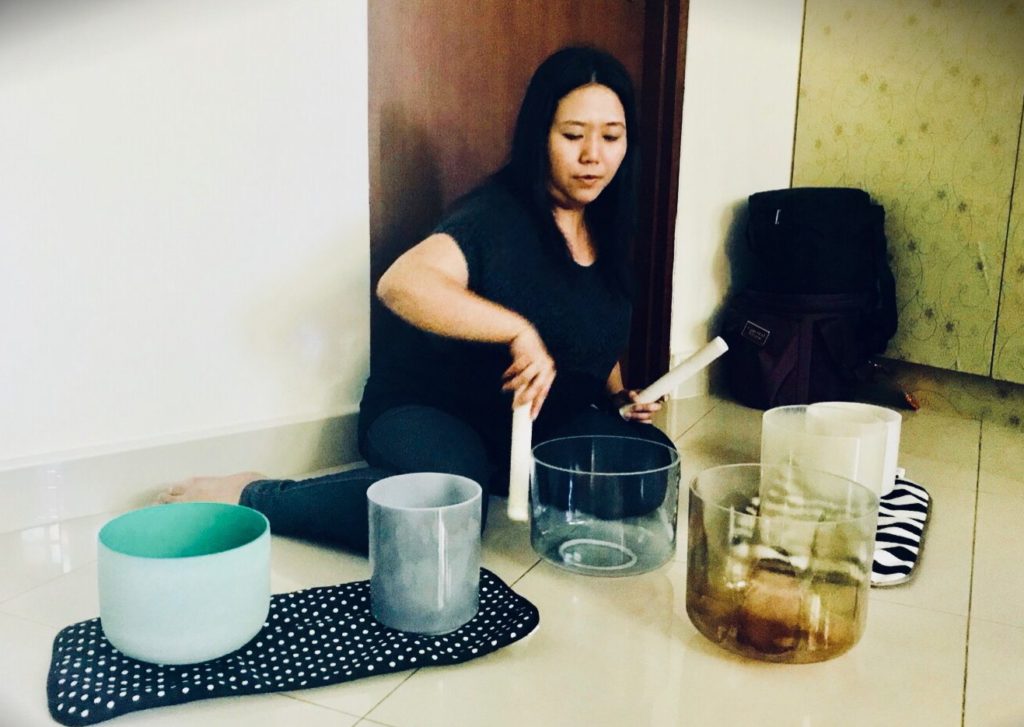 In the crystal sound bath session, Elaine uses her six crystal singing bowls (a Crystal Tones Tanzanite Alchemy™ bowl, a Heart Chakra Quartz bowl, a Crystal Tones Yagna Alchemy™ bowl, a Crystal Tones Citrine Alchemy™ bowl, a Crystal Tones Diamond Alchemy™ bowl, and a Crystal Tones Ruby Alchemy™ bowl) to give an intuitive 45 minutes sound healing.
During the sound bath, the crystal singing bowls will be played in symphony, and may be followed by one or a few of the bowls being sounded directly over different points of the body, if Elaine is intuitively called to do so. The pure therapeutic sound and frequencies from the crystal bowls facilitate shifts in the physical and energetic body, and healing can be emotional, physical and spiritual, depending on what you are ready for. The sound bath can balance emotions and quiet the busy mind, taking you into a deep and relaxing healing space as you are cocooned in the vibrations and magical sounds of the singing bowls.

Book a Private Crystal Sound Bath Session
Private sound baths are done at OneHeart Centre, 37 Tembeling Road, or can be arranged as house visits.
The calendar below shows Elaine's availability for private sound bath sessions at OneHeart Centre.
Slots marked 'Available' are sessions available for booking at OneHeart Centre. To book a session, please complete the form below indicating your preferred appointment time, or send a text to 9488 2454.
Rates:
Personal
One session – $130
Package of 3 sessions: $360

Private group (2 people and above)
Base rate of $150 per session, with maximum of 5 people in group. Every additional person thereafter @ $30 per person
Package of 3 sessions: $390 base rate with maximum of 5 people in group, every additional person thereafter @ $25 per person
*Corporations who want group sessions for their staff, and private events, please contact us for a separate quote using the form below
*Sound baths are 45 minutes, but please set aside an additional 20 min or so for debrief and discussion.

House visits
The same rates above apply. Transport fee of $30/$40/$50 per session is chargeable for house visits, depending on location; if you are located in the far north/south/west (e.g. Woodlands/Dover/Buona Vista/Jurong/Boon Lay/Bukit Timah) transport will be at $40 due to distance. House visits at Sentosa has a transport fee of $50, due to distance and toll.
If you would like to arrange for a house visit, please indicate in the comments in the form or in your text, together with your preferred time, and we will revert on availability.
If you have any additional questions and wish to speak with Elaine, you may contact her @ 94882454.

Book A Session: